Majority of Kenyans vividly recall the august 1,1982 attempted coup that widened enmity between retired President Daniel Moi and former Prime Minister Raila Odinga and his family.
It was alleged that the aborted coup was designed by then Kenya Air Force officers and a section of opposition politicians among them, Odinga, who were later arrested, detained or jailed. This enhanced the hatred between the two families.
Little known to Kenyans, the enmity between the two started immediately after founding father Jomo Kenyatta's death, when Moi's heavily discriminated opposition leaders, including Jaramogi.
Also the difference played active role immediately after Oginga's death on January 20, 1994. Raila, in his book The Flame of Freedom, stated that Moi didn't want anything to do with the Odinga family to an extent of barring the public from viewing the body of Oginga Odinga.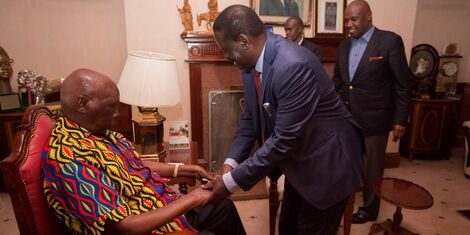 Raila continues to state that the family had decided to bury Mr Oginga at Uhuru Gardens where a state funeral was to be conducted but Moi couldn't hear any of their wishes, leaving the family with the only option of burying him in Kisumu.
He further added that the family carried on with their preparations undeterred. They organized a memorial ceremony at Uhuru Park, before the body was taken to his rural home in Bondo for burial.
The government didn't order the flag flown at half-mast just like what happens whenever a senior government official dies, the family decided to use Ford Kenya flag flown at half-mast at their headquarter, and at their branches across the country.
"Only a Ford Kenya flag flew at half-mast. The other masts where the national flags should have flown stood bare. No government order had been given that the country's flags should fly at half-mast to mark the death of Jaramogi," Raila stated.
On March 24, 1983, Raila was put into detention and he would serve in various maximum prisons such as Kamiti, Manyani, Naivasha and Shimo La Tewa.
He would later forgive president Moi of all the bad acts directed to his family.
On his twitter handle Mr Odinga said: "I visited retired President Daniel Arap Moi at his Kabarak home to condole with him following the recent passing of his son Jonathan. We continue to wish strength to the former president and his family. May God grant them peace during this trying time."
During the BBI rally in Kitui last week, KANU secretary general Nick Salat said that Gideon Moi was already supporting BBI championed by Mr Odinga.
Mr Odinga has sent a message of condolence to Moi family.
Moi has died aged 95 years.